Recommendation 2: Begin clinical trials of medically supervised drug maintenance therapy.
In one of the most dramatic success stories in modern addiction treatment, doctors in Switzerland have discovered that the provision of medically determined doses of heroin to heroin addicts significantly improves their health, lifestyle and reduces the amount of crime associated with drug use when they are permitted to leave the black market environment. The Swiss researchers concluded that:
Both the number of criminal offenders and the number of offenses decreased by about 60% in the first six months of the program.
Most illicit drug use, including cocaine, rapidly and markedly declined.
The number of participants on unemployment benefits fell by more than half (from 44% to 20%).
Participants' housing situation rapidly improved, ending homelessness among the patients.
The physical health of participants improved.
More than half of the patients who dropped out of the program did so in order to switch to another form of treatment, including abstinence.
96
The success of this program illustrates how deeply our current policies are failing to reduce most of the consequences of drug use in this country. In light of that failure, our country must be able to learn from the successes of other nations and experiment with techniques that might improve living conditions for everyone.
Recommendation 3: Allow doctors greater freedom in prescribing medications for pain control.97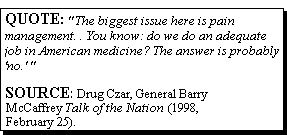 As stated by ONDCP Director Barry McCaffrey, we are not doing enough to help the millions of Americans who suffer from chronic pain. The restrictions for prescribing Schedule 2 drugs like morphine are so strong, and the penalties so great, that doctors consistently under-prescribe pain medication to those who need it most. In 1998, Rep. Henry Hyde introduced the Lethal Drug Abuse Act of 1998, which would have given the Drug Enforcement Administration the power to revoke the prescription license of any doctor who intentionally prescribes a lethal dose of pain medication to a patient. Such a law can only have a chilling effect on the type of pain alleviation doctors will be willing to provide. Giving greater freedom to doctors will allow them to prescribe drugs that work to those in need.
Recommendation 4: Allow a broader distribution of opiate agonist chemotherapy (e.g. methadone, LAAM) and move oversight of such programs to the Center for Substance Abuse and Treatment.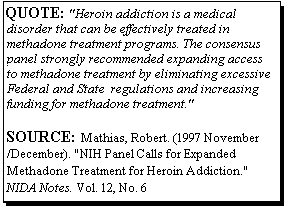 Methadone is the safest, most effective and least costly method to treat heroin addiction, yet it remains a strictly controlled method of treatment. For every 10 heroin addicts in America, there are only one or two methadone treatment slots. We must expand opiate agonist treatment facilities so that every heroin addict can obtain treatment on demand.
Opiate agonist treatment and particularly methadone maintenance has many additional benefits, such as the reduction of criminal behavior. Studies show that arrests decline as patients no longer need to finance a costly heroin addiction. Methadone is a medication that stabilizes a dysfunctional neurological condition and produces no euphoric effects.98 Methadone allows patients to stabilize their lives, restore relationships with their families, return to legitimate employment and contribute to their community as any other individual. In order to meet the need for opiate agonist treatment, doctors must be permitted to prescribe methadone and other pharmacotherapies like any other prescription drug. Opiate agonist treatment should also be administered in the prison systems and through a variety of delivery systems to give opiate addicts easy access to treatment. Opiate agonist treatment should be a valid medical procedure for public and private insurance and not limited to one treatment experience. Opiate addiction is a chronic relapsing medical condition and coverage for treatment should reflect this. Incarcerated opiate addicts and methadone patients who need to be withdrawn should receive adequate medical care; the only approved medication for opiate withdrawal is methadone.
However, since the medical condition of addiction is misunderstood, we recommend that some form of oversight be undertaken to protect patients from physicians who may decide they no longer want to treat them. Pain patients can also face a similar situation for a variety of reasons, such as when a clinician is afraid of DEA interference.
The oversight of methadone maintenance programs should be transferred from the Food and Drug Administration to the Center for Substance Abuse and Treatment (CSAT). CSAT's oversight should include the concepts of a new accreditation system that will be based on reduced regulations, treatment outcome and quality treatment. We urge that state regulatory agencies and programs review their policies which have been based on the dysfunctional patient rather than the stable patient to reflect this new accreditation system.
It is imperative that methadone patients and others participating in opiate agonist treatment be included in all levels of policy making with regard to treatment. Methadone patients have been excluded from policy decisions for too long. Finally the government should undertake a public relations campaign to destigmatize the users of illicit drugs and create a more caring environment for those desiring recovery.
Recommendation 5: Recognize the rights of states, doctors and patients to make their own decisions regarding the usefulness of medical marijuana.99